Bacon Bacon takes first place in Bacon Takedown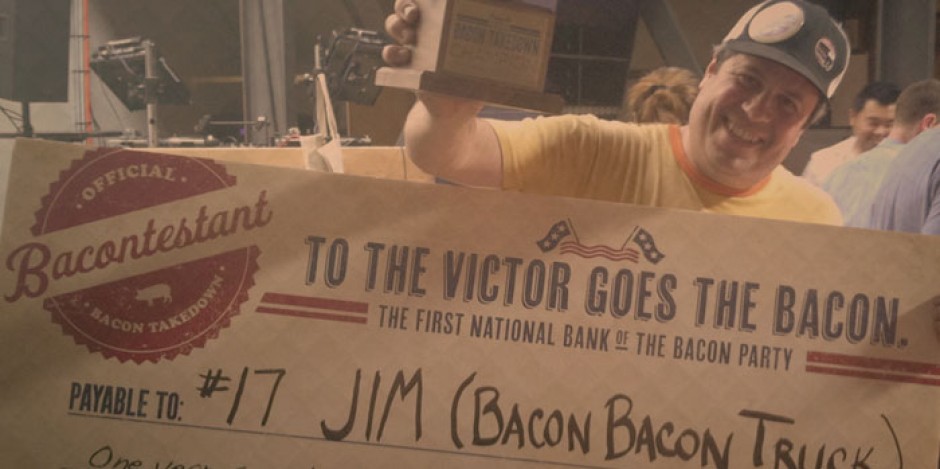 What a fiendishly rad expose of the possibilities of bacon.
SF has always been a majorly fun food stop. Everyone talks about the restaurants and chefs, but here's the Takedown to once again prove that the average joe's walking the streets over there are actually not so average!!!!  In fact, let's burn every restaurant down!!! Trust me, it won't be anarchy. There's way too much yummy talent in this town- a new cooking culture will form, of good old fashioned home cooks with boundless energy and rad strength. THANK YOU COOKS!!!
And thank you to my sponsor Hormel Black Label Bacon for letting this thing tour the planet and give endless amounts of bacon to competitors wherever we go!! And Public Works, for being a fantastic venue for this madness to ensue…
Check out this incredibly extensive and caring article by Judge Josh Leskar! That dude really cares, and gave his thoughts on all the recipes!!! Thanks for being the best judge ever, Josh!!!
JUDGES WINNERS
4th Place #14 Christy Canida – Bacon Pixie Sticks
3rd Place #11 Joyce Tang "S'more Bacon"
2nd Place #17 Jim Angelus and the Bacon Bacon Truck Chicken Fried Bacon Balls
1st Place #6 Dennis and Nina Murphy – Baco Yaks
PEOPLE'S CHOICE
3rd #7 Tomas Puig – Bacon Cheddar Soup
2nd #2 Krista – Little Squealer Meatballs
1st #17 Jim Angelus and the Bacon Bacon Truck Chicken Fried Bacon Balls